Event Date & Time
September 24, 2023 – 7:00 PM
Speaker
Mr. Sreedhar N. - Chief Financial Officer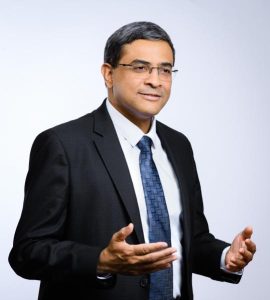 Event Details
I trust this message finds you all in good health and spirits after your well-deserved summer break. As the autumn breeze starts to embrace us, we are thrilled to kick off this year's series of monthly dinners with an exceptional guest speaker.
Allow us to introduce Mr. Sreedhar N., the Chief Financial Officer of a renowned French multinational corporation, Saint-Gobain. Mr. Sreedhar has graciously accepted our invitation to share his insights on a compelling topic: "Navigating Economic Challenges: The Success of Saint-Gobain in India and Coping with the European Recession."
Intriguing, isn't it? In this captivating discussion, he will delve into the fascinating narrative behind Saint-Gobain's triumph in the Indian market. Moreover, he will enlighten us on the strategies employed by the company to steer through the current economic hurdles in Europe, particularly in the wake of a substantial downturn in housing construction.
This is a topic of paramount importance in today's global economic landscape, and IPA firmly believes that you will find Mr. Sreedhar's insights both enlightening and valuable.
A Brief Overview of Mr. Sreedhar N.
Sreedhar N. holds the distinguished position of Group Chief Financial Officer and is an esteemed member of the Executive Committee (EXCOM) at Saint-Gobain, a prestigious French multinational corporation. Additionally, he serves as a non-executive board member of Grindwell Norton Ltd.
With a strong educational foundation, Mr. Sreedhar is a qualified CMA (Certified Management Accountant) and holds master's degrees in Commerce & Economics as well as Management. His remarkable journey with Saint-Gobain began in 1994 in India. Over the years, he has demonstrated remarkable career progression, becoming the first non-French Group Chief Financial Officer in Saint-Gobain's illustrious 355-year history.
As a C-suite executive, Mr. Sreedhar has played a pivotal role in the global development of the Saint-Gobain Group, which boasts manufacturing facilities in approximately 75 countries. His contributions have been instrumental, particularly in the transformation of the group during the last five years.
Throughout his extensive 29-year career at Saint-Gobain, he has gained diverse international experience in Business Management, Corporate Finance, Strategy, Mergers & Acquisitions, and Operations.
Do join us for an evening of enlightenment and inspiration as we embark on this exciting journey with Mr. Sreedhar N. We anticipate a stimulating discussion and the opportunity to gain invaluable insights into the world of global finance and business strategy.
Participation Fee
€ 35
Mode of Payment:
by cheque or credit card payable directly to the restaurant on arrival (IPA members can use coupons if available).
Venue
Jodhpur Palace Restaurant, 12 Allée Vivaldi, 75012 Paris - Tel: 01 43 40 72 46
Tenue de Ville
Join us to explore Saint-Gobain's success story in India and strategies to combat the European recession. RSVP to secure your spot. Don't miss this opportunity to gain insights from a seasoned industry leader.
RSVP closed as this is a past event.