Event Date & Time
March 26, 2023 – 12h00
Speaker
Air Cmde TK Chatterjee (retd)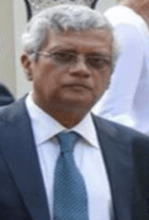 Event Details
Tapan, a senior IPA member & currently IPA President, was commissioned in the Indian Air Force in Dec 1976. An alumnus of the National Defence Academy, he was inducted in the fighter stream. He has flown 5000+ hours on 34 types of aircraft, which includes all that is flying in the Indian subcontinent and more. He is a flying instructor and an Experimental Test Pilot, in which capacity was involved in various design and development projects of the service and Hindustan Aeronautics Ltd. He is a graduate of the Defence Service Staff College and holds a Master's degree in Defence Studies from Madras University. He served in various operational, command and staff appointments, for 33 years till he retired in 2010. On quitting IAF, he served as the Chief Instructor of Indira Gandhi Rashtriya Uran Akademy, the largest civil aviation training institution in the Asia Pacific region, till 2015. He now lives between France and India playing golf and dabbling in technology, with the help of his two sons, in his spare time.
Indian Armed Forces
His talk will cover the nature and the ethos of the Indian armed forces and its standing in the world order. Will also touch upon India's strategic options considering the geopolitics of her neighbourhood regions. France is an important ally of India so the politico-military relationship with France and the EU is an important factor in our planning for the future. Lastly some exposure to the IAF and some facts about the relationship between France and India. His address will be followed by Q & A
Participation Fee
€ 35
Mode of Payment:
by cheque or credit card payable directly to the restaurant on arrival (IPA members can use coupons if available).
Venue
Jodhpur Palace Restaurant, 12 Allée Vivaldi, 75012 Paris - Tel: 01 43 40 72 46
Tenue de Ville
timely arrival requested to facilitate better interactions with members, guests and new members.
RSVP closed as this is a past event.